Here are two from February 7th and 8th eight years ago (2006).
---
Kings and Queen
NewMexiKen viewed the French film Kings and Queen (Rois et reine) last evening. I'm not even certain why I added it to my Netflix queue, but I'm glad I did. The film is in French with English subtitles; it runs about 150 minutes.
The movie is essentially about Nora (Emmanuelle Devos), a beautiful 35-year-old art gallery manager and single mother. It details her past and present relationships with her eleven-year-old son, her dying father, her first (and dead) husband, and her second husband, the erratic and unstable Ismaël (Mathieu Amalric).
This is a film about relationships — with lovers, children, siblings, co-workers — and that relationships often are not what they seem. The movie is long enough that the viewer begins to think they know Nora and Ismaël — and the father and others — but not so.
The contrasting personalities of Nora and Ismaël are study enough to make the film interesting. Catherine Deneuve in a brief appearance as the psychiatrist, Mme. Vasset, is a bonus. "You're very beautiful,"says Ismaël. "I've been told," says Mme. Vasset.
Recommended for a contemplative evening, though the film is not without humor. (There are no 'splosions or car chases.)
---
Yesterday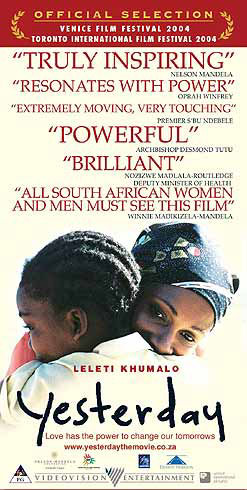 Tonight NewMexiKen watched another outstanding foreign film that I had somehow added to my Netflix queue — Yesterday, a film I watched in Zulu with English subtitles.
As with many foreign films, the action here moves at an unhurried, less frentic pace than so much American film-making, where camera movement and split-second cut-aways resemble nothing more than 8mm home movies. In Yesterday, the camera stays on a subject long enough for the viewer to enter the character, to begin to understand (perhaps) and empathize (perhaps).*
Yesterday is the name of the lead character, a small-village Zulu woman of about 25, played by the beautiful actress Leleti Khumalo. Yesterday has a five-year-old daughter, Beauty, and a husband, John, working in the mines in Johannesburg. The movie opens with the mother and daughter walking (for more two hours we learn) so that Yesterday can visit the doctor. As the movie progresses, we learn that Yesterday is very sick — about half-way through the film we learn she is HIV positive.
What follows is an extraordinarily powerful story of sadness, friendship, fear, pain, courage and love — but never really anger. If there are saints on this planet (and I believe there are), then Yesterday is surely among them.
Not to be missed.
---
* (It's interesting to contrast Yesterday, an African-made movie, with the otherwise excellent The Constant Gardener, a European film about Africa, where the camera movement is so rapid, that NewMexiKen actually felt nauseated.)
There are few moving cars in this film, so no car chases, and few men, too, so no 'splosions.
NewMexiKen wouldn't have missed this film, but I must say I am in need of a comedy. Fortunately, Wedding Crashers is due to arrive from Netflix tomorrow.