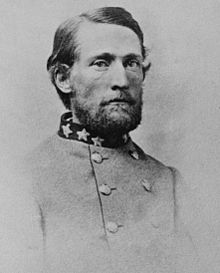 John Singleton Mosby, the Gray Ghost, was born on this date in 1833. A Virginian, Mosby sided with his state during the secession. He organized a partisan ranger company, the 43rd Battalion, Virginia Cavalry, also known as Mosby's Rangers or Mosby's Raiders, and conducted what Union leaders considered to be guerilla raids in northern Virginia, from the Shenandoah Valley to the Potomac River. After the war, Mosby became politically aligned and friendly with Republican President Grant, was a successful lawyer, and entertained a young George S. Patton with Civil War stories. He lived until 1916.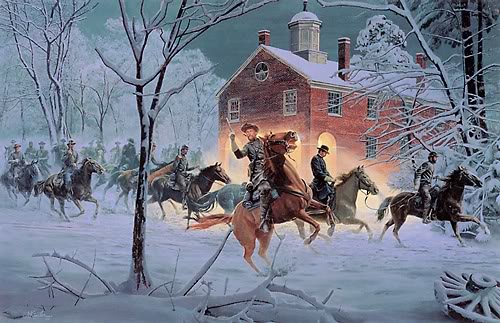 That's Mort Künstler's painting Fairfax Raid, depicting Mosby's daring saunter behind enemy lines on March 9, 1863. That morning he captured Union General Edwin H. Stoughton. According to a story reported in Wikipedia, "Mosby found Stoughton in bed and roused him with a slap to his rear. Upon being so rudely awakened the general shouted, 'Do you know who I am?' Mosby quickly replied, 'Do you know Mosby, general?' 'Yes! Have you got the rascal?' 'No, but he has got you!" His group also captured 30 or more sentries without firing a shot."
You can't drive two miles in the Fairfax-Manassas, Virginia, area without seeing this or that Mosby shopping center, neighborhood, school and so on.
And you can't walk past Jill's dining room without seeing a nicely framed print of "Fairfax Raid."