. . . is the birthday
… of Russ Tamblyn. Riff, "a Jet to his dying day," is 79.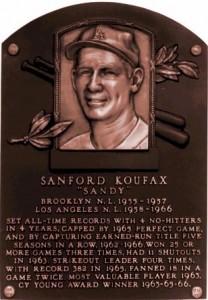 … of Sandy Koufax. The most dominant pitcher in the game in the early 1960s — the man who threw four no-hitters including a perfect game — is 78.
… of Noel Paul Stookey. Paul of Peter, Paul & Mary is 76.
… of James Burrows. The director of "Taxi," "Cheers" and "Will and Grace" is 73.
… of Fred Ward. The actor (Gus Grissom in The Right Stuff and Earl Bassett in the greatest movie ever, Tremors) is 71.
… of Monkees Michael Nesmith (71) and Davy Jones, who died in 2012; he would have been 68 today.
… of Patti Smith. Punk rock's poet laureate is 67.
… of Jeff Lynn. Electric Light Orchestra, Traveling Wilburys, The Move, and The Idle Race — 66 today.
… of Meredith Vieira, 60 today, and Matt Lauer, 56 today.
… of Tracey Ullman. She's 54.
… of Eldrick Woods. Tiger is 38.
… of LeBron James. He's 29 today.
The Genius Among Geniuses, Alfred Einstein, was born on December 30, 1880.
And a genius of another kind, Bo Diddley was born on this date in 1928. (He died in 2008.)
Music historian Robert Palmer has described Bo Diddley as "one of the most original and fertile rhythmic intelligences of our time." He will forever be known as the creator of the "Bo Diddley beat," one of the cornerstone rhythms of rock and roll. He employed it in his namesake song, "Bo Diddley," as well as other primal rockers like "Mona." This distinctive African-based rhythm pattern (which goes bomp bomp bomp bomp-bomp) was picked up from Diddley by other artists and has been a distinctive and recurring element in rock and roll through the decades.