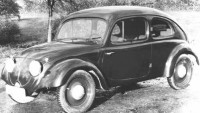 Ferdinand Porsche was born in Maffersdorfon in what is now the Czech Republic on this date in 1875. Porsche was an automotive engineer instrumental in the early development and racing of Austrian and German cars, notable at Austro-Daimler (1906-1923) and Daimler-Motoren-Gesellschaft (1923-1929). He developed the compressor for Mercedes-Benz and the torsion bar suspension with his own design company in 1931. And he was the leader in the development of the Volkswagen, which began production just before World War II.
It was, however, Ferdinand (Ferry) Porsche, the first Ferdinand Porsche's son, who built the race and sports cars we recognize today, beginning in 1948.
It's pronounced like the name Portia — por-sha.
George Hearst was born in Missouri in 1820. He went to California in 1850, panned for gold, but quickly became a good judge of mining properties. His fortune followed, first with the Comstock Lode near Virginia City, Nevada, then the Ophir mine, the Homestake gold mine in Dakota Territory, the Anaconda copper mine in Montana and the Cerro de Pasco Mine in Peru. 41-year-old Hearst married 19-year-old Phoebe Apperson in 1862 and moved to San Francisco. They had their only child the following year, William Randolph Hearst. George Hearst was United States Senator from California in 1886 and 1887 until his death in 1891. His personality as portrayed in Deadwood was largely fictional.
Mark Hopkins was born on this date in 1813. Hopkins came to California in 1849, but to become a merchant not a miner. With Collis Huntington, Leland Stanford and Charles Crocker, Hopkins established the California Pacific to build east to Utah from Sacramento as part of the first transcontinental railroad. The Central Pacific eventually merged with the Southern Pacific, which they — The Big Four — also owned. Today it is part of the Union Pacific, one of the four remaining major rail lines.
Alan Ladd, best known for his portrayal of the title role in Shane, was born 99 years ago today. He was 5-foot-6. Ladd died in 1964 at age 50.
Mort Walker is 89 today. He's the creator of the comic strip Beetle Bailey, beginning at the University of Missouri.

Pulitzer-winner, for her 1984 novel Foreign Affairs, Alison Lurie is 86 today.
Al Jardine, the only member of the original Beach Boys not related to the others, is 70 today. He sang the lead on "Help Me, Rhonda."
Writer Malcolm Gladwell is 49.
Charlie Sheen is 47.
Three-time All-American softball pitcher Jennie Finch is 32 today.
Shaun White is 26.
The Treaty of Paris that formerly ended the American war with Great Britain was signed on this date in 1783, more than eight years after the first shots were fired at Lexington and Concord.
Article 1:

His Brittanic Majesty acknowledges the said United States, viz., New Hampshire, Massachusetts Bay, Rhode Island and Providence Plantations, Connecticut, New York, New Jersey, Pennsylvania, Delaware, Maryland, Virginia, North Carolina, South Carolina and Georgia, to be free sovereign and independent states, that he treats with them as such, and for himself, his heirs, and successors, relinquishes all claims to the government, propriety, and territorial rights of the same and every part thereof.