Today is the birthday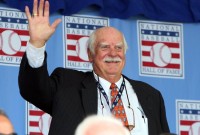 … of baseball hall-of-famer Gaylord Perry, 74.
Gaylord Perry achieved two of pitching's most magical milestones with 314 wins and 3,534 strikeouts. Distracting and frustrating hitters through an array of rituals on the mound, he was a 20-game winner five times and posted a 3.10 lifetime ERA. With the Giants in 1968, Perry no-hit the Cardinals and starter Bob Gibson. An outstanding competitor, he won Cy Young Awards in 1972 with Cleveland and with San Diego in '78, becoming the first pitcher to win the award in both leagues.
But, more importantly —
Gaylord Perry, one of the premier pitchers of his generation, won 314 games and struck out 3524 batters, but his place in baseball history rests mainly with his notorious use of the spitball, or greaseball, which defied batters, humiliated umpires, and infuriated opposing managers for two decades. But make no mistake: he was also a brilliant craftsman with several excellent pitches in his repertoire, a hurler whose mastery of the spitter provided the batter yet another thing to think about as the pitch sailed toward the plate. After the game, he sheepishly denied any wrongdoing, slyly grinning like a poker player who knows he's one step ahead of everyone else.
From the same source:
During a playoff game in 1971, a television reporter briefly sat down with the Perry family during a game Gaylord was pitching. After a few polite questions, Allison, Perry's five-year-old daughter was asked, "Does your daddy throw a grease ball?" Not missing a beat, she responded, "It's a hard slider."
… of Jessye Norman, 67 today. From a biographical essay by the Kennedy Center:
Jessye Norman is one of the most celebrated artists of our century. She is also among the most distinguished in a long line of American sopranos who refused to believe in limits, a shining member of an artistic pantheon that has included Rosa Ponselle, Maria Callas, Leontyne Price and now this daughter of Augusta, Georgia. "Pigeonholing," said Norman, "is only interesting to pigeons." Norman's dreams are limitless, and she has turned many of them into realities in a dazzling career that has been one of the most satisfying musical spectacles of our time.
… of Tommy Lee Jones. He's 66. Jones has been nominated for the Best Supporting Actor twice, winning for The Fugitive, but not for JFK. And he was nominated for best actor for In the Valley of Elah, a fine, fine performance. NewMexiKen liked Jones also in The Three Burials of Melquiades Estrada. Jones and Harvard roommate Al Gore were the inspiration for Oliver Barrett IV in Erich Segal's best-seller Love Story.
… of Oliver Stone, also 66. Stone has been nominated for 11 Oscars and won three — he won for writing for Midnight Express and for best director for Platoon and Born on the Fourth of July.
Coach Pete Carroll is 61. Dan Marino is 51. Jason Terry is 35.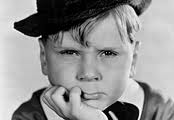 Jackie Cooper was born on September 15, 1922. He died last year. Cooper's first appearance in film was in 1929; his last 60 years later. He played Perry White in the Superman films but his real fame was as a child actor, most notably Jim Hawkins in Treasure Island (1934). He was nominated for the best actor Oscar for Skippy in 1931. This is the role where the director got him to cry on camera by telling Jackie (falsely) that his dog had just been run over by a car.
The biographer Fawn Brodie was born on this date in 1915. She was one of the first woman professors of history at UCLA, best known for Thomas Jefferson: An Intimate History (1974) and No Man Knows My History (1945), a biography of Joseph Smith. Professor Brodie dealt in psychobiography; she was among the first to make the case for a Jefferson-Sally Hemmings relationship.
County music immortal Roy Acuff was born on this date in 1903.
Roy Claxton Acuff emerged as a star during the early 1940s. He helped intensify the star system at the Grand Ole Opry and remained its leading personality until his death. In so doing, he formed the bridge between country's rural stringband era and the modern era of star singers backed by fully amplified bands. In addition, he co-founded Acuff-Rose Publications with songwriter Fred Rose, thus laying an important cornerstone of the Nashville music industry. For these and other accomplishments he was elected to the Country Music Hall of Fame in 1962 as its first living member.
Agatha Christie was born on this date in 1890. Five years ago The Writer's Almanac had this (and more):
During World War I, she was working as a Red Cross nurse, and she started reading detective novels because, she said, "I found they were excellent to take one's mind off one's worries." She grew frustrated with how easy it was to guess the murderer in most mysteries, and she decided to try to write her own. That book was The Mysterious Affair at Styles (1920) about a series of murders at a Red Cross hospital.

Christie's first few books were moderately successful, and then her novel The Murder of Roger Ackroyd came out in 1926. That same year, Christie fled her own home after a fight with her husband, and she went missing for 10 days. There was a nationwide search, and the press covered the disappearance as though it were a mystery novel come to life, inventing scenarios and speculating on the possible murder suspects, until finally Christie turned up in a hotel, suffering from amnesia. During the period of her disappearance, the reprints of her earlier books sold out of stock and two newspapers began serializing her stories. She became a household name and a best-selling author for the rest of her life.
Humorist Robert Benchley was born on this date in 1889. In 2005 The Writer's Almanac said:
He started writing humor as a kid in school. Assigned to write an essay about how to do something practical, he wrote one called "How to Embalm a Corpse." When he was assigned to write about the dispute over Newfoundland fishing rights from the point of view of the United States and Canada, he instead chose to write from the point of view of the fish.
He's the grandfather of Peter Benchley, author of Jaws.
William Howard Taft, both president and later chief justice of the United States, was born on September 15, 1857:
In 1900, President William McKinely appointed Taft chair of a commission to organize a civilian government in the Philippines which had been ceded to the United States at the close of the Spanish-American War. From 1901 to 1904 Taft served successfully as the first civilian governor of the Philippines. In 1904 Theodore Roosevelt named Taft secretary of war.

After serving nearly two full terms, popular Teddy Roosevelt refused to run in 1908. Instead, he promoted Taft as the next Republican president. With Roosevelt's help, Taft handily defeated Democrat William Jennings Bryan. Throughout his presidency, Taft contended with dissent from more liberal members of the Republican party, many of whom continued to follow the lead of former President Roosevelt.

Progressive Republicans openly challenged Taft in the Congressional elections of 1910 and in the Republican presidential primaries of 1912. When Taft won the Republican nomination, the Progressives organized a rival party and selected Theodore Roosevelt to run against Taft in the general election. Roosevelt's Bull Moose candidacy split the Republican vote and helped elect Democrat Woodrow Wilson.

From 1921 until 1930, Taft served his country as chief justice of the Supreme Court. In an effort to make the Court work more efficiently, he advocated passage of the 1925 Judges Act enabling the Supreme Court to give precedence to cases of national importance.
James Fenimore Cooper was born on September 15th in 1789.