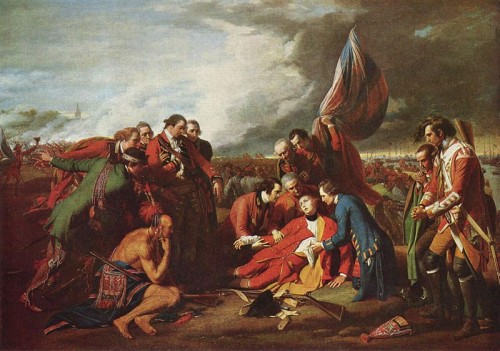 It was 253 years ago today (September 13, 1759) that British military and naval forces under General James Wolfe defeated the French under Marquis Louis-Joseph de Montcalm on the fields once belonging to Abraham Martin outside Québec. Both commanders were killed. That's Wolfe's death on the field above as depicted by Benjamin West. Montcalm died the next morning.
Fewer than 10,000 combatants were on the Plains of Abraham that day for a battle lasting just about an hour. Yet, and even though the war continued for four more years, it was the pivotal battle for North America. Controlling Québec meant controlling the St. Lawrence River. In the Treaty of Paris that ended the Seven Years War in 1763 — it is known as the French and Indian War in America, as the War of the Conquest in Québec — France ceded to Britain its claim to Canada, the Great Lakes and the Mississippi Valley.
The British, unable to pierce Québec's defenses throughout July, had launched a war of terror. An estimated 1,400 farms had been destroyed — no one knows the number of murders, rapes, thefts and scalpings. Even so, the French held, well arrayed against an assault on the cliffs and shore below the city, and supplied from up river against a siege.
Finally, perhaps in desperation, Wolfe moved his army up river past Québec. On the night of September 12th, he let the ebbing river bring them back down to an obscure pathway up the cliff to the Plains of Abraham. By daylight, seven British battalions were on the field; five more were still coming up the path and artillery was being manhandled up the cliff as well (4,500 men in all). Montcalm, reportedly rattled by Wolfe's surprise move, decided to assault the probably superior British force in a frontal assault.
The French marched on the seven forward British battalions; the Redcoats were formed two deep, a half-mile wide. The British were ordered not to fire until the enemy was at 40 yards. The French fired at 125-150 yards, to little effect — though they did mortally wound Wolfe. The British held fire. The French attacked without cohesion. The British stood still holding fire.
When the French advance reached 40 yards the British fired. From then it was a rout. In fact the British command needed to order its pursuing troops back. British discipline reformed before French reserves arrived from behind; the arriving French did not engage. (The outcome might have been different if Montcalm had kept his cool and waited to trap the British before attacking.) Each side had about 650 casualties.
The British dug in for a siege. The town, its supplies now cut off, capitulated on the 18th.
And the British spent a miserable Québec winter with nothing to eat — they had destroyed all the farms before harvest.
The British captured Montréal the following September. Canada was British.