Today is the birthday
… of football hall-of-fame quarterback Yelberton Abraham "Y.A." Tittle, 84.
Career record: 2,427 completions, 33,070 yards, 242 TDs, 13 games over 300 yards passing…Paced 1961, 1962, 1963 Giants to division titles…Threw 33 TD passes in 1962, 36 in 1963…NFL's Most Valuable Player, 1961, 1963.
… of Bill Wyman. The Rolling Stones' bass player (1962-1992) is 74.
… of F. Murray Abraham. The Oscar-winning best actor (Amadeus) is 71 today.
… of Kevin Kline. The Oscar-winning best supporting actor (A Fish Called Wanda) is 63 today.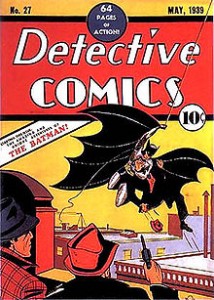 Bob Kane, the cartoonist who created "Batman" was born on October 24, 1915. From his Times obituary in 1998:
In 1938 he started drawing adventure strips, "Rusty and His Pals" and "Clip Carson," for National Comics. That same year, a comic-book hero called Superman appeared. Vincent Sullivan, the editor of National Comics, who also owned Superman, asked Mr. Kane and Mr. Finger to come up with a Supercompetitor. They developed Batman on a single weekend. Mr. Kane was 18 [23].

The first Batman strip came out in May 1939 in Detective Comics, one year after the debut of Superman. Batman's first adventure was called "The Case of the Chemical Syndicate." And he was another kind of superhero entirely. Batman wasn't as strong as Superman, but he was much more agile, a better dresser and had better contraptions and a cooler place to live.

He lived in the Batcave, drove the Batmobile, which had a crime lab and a closed-circuit television in the back, and owned a Batplane. He also kept a lot of tools in his utility belt, including knockout gas, a smoke screen and a radio.

"Since he had no superpowers, he had to rely only on his physical and his mental skills," said Allan Asherman, the librarian of DC Comics.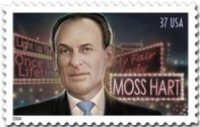 Playwright and director Moss Hart was born on October 24th in 1904.
A distinguished librettist, director, and playwright who was particularly renowned for his work with George S. Kaufman. Hart is reported to have written the book for the short-lived "Jonica" in 1930, but his first real Broadway musical credit came three years later when he contributed the sketches to the Irving Berlin revue "As Thousands Cheer." Subsequent revues for which he co-wrote sketches included "The Show Is On," "Seven Lively Arts," and "Inside USA." During the remainder of the '30s Hart wrote the librettos for "The Great Waltz" (adapted from the operetta "Waltzes of Vienna"), "Jubilee," "I'd Rather Be Right" (with Kaufman), and "Sing Out the News" (which he also co-produced with Kaufman and Max Gordon). In 1941 he wrote one of his wittiest and most inventive books for "Lady in Dark," which starred Gertrude Lawrence, and gave Danny Kaye his first chance on Broadway.

Thereafter, as far as the musical theater was concerned, apart from the occasional revue, Hart concentrated mostly on directing, and sometimes producing, shows such as Irving Berlin's "Miss Liberty," and Alan Jay Lerner and Frederick Loewe's smash hits "My Fair Lady" and "Camelot." He won a Tony Award for his work on "My Fair Lady." His considerable output for the straight theater included "Light up the Sky," "The Climate of Eden," "Winged Victory," and (with Kaufman) "Once in a Lifetime," "You Can't Take It With You" (for which they both won the Pulitzer Prize), and "The Man Who Came to Dinner." Hart also wrote the screenplays for two film musicals, HANS CHRISTIAN ANDERSEN (1952) and the 1954 remake of A STAR IS BORN, starring Judy Garland. His absorbing autobiography, ACT ONE, was filmed in 1963 with George Hamilton as Hart and Jason Robards as Kaufman.
James Schoolcraft Sherman was born on October 24th in 1855. Sherman was Vice President of the United States from March 4, 1909 until he died in office October 30, 1912 (President Taft).
Thursday, October 24th, 1929 — Black Thursday — was the first of the three most significant days of the stock market crash (the others were Monday the 28th and Tuesday the 29th).